Steel Joists and Decks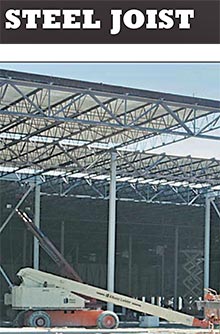 Drawings
Zamil Steel produces its own shop drawings for the fabrication of your steel joists, trusses, structural steel components, steel deck and girts. For project design, bid preparation or component manufacturing, our sales representatives, engineers, technicians and draftspersons are at your service. Our team can suggest efficient and economical solutions.
Fabrication
Our production equipment is at the leading edge of technology. We have continued to invest significantly in the best available equipment in the industry, including computeraided manufacturing and numerically-controlled machinery. Zamil Steel has automated roll formers for girts and steel decks.
Delivery
Zamil Steel's advantage has always been our ability to deliver on time, regardless of where or when you need our products. We know you cannot afford to keep your on-site erection crews waiting.